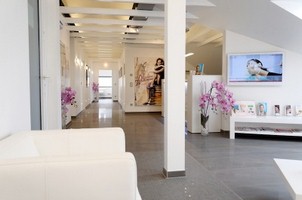 "The beauty created from a unique combination of art and science."

The center is located close to Düsseldorf and offers a full range of servicesin the field of dermatology - from the restoration and preservation of the health of the skin, finishing with a variety of aesthetic procedures.

Preference is given to the delicate treatments instead of surgery. After a brief recovery period you'll be able to return to their professional andeveryday duties.

The main task of the team Derma Loft - to provide you with good health. The center is equipped with the most advanced equipment in the field of dermatology and aesthetics.

At your service - certified specialists in various medical fields, includingaesthetic medicine who regularly attend training programs, participating in national and international congresses.

Services

- Screening for skin cancer with computer support and photo documentation,
  -innovativnye hardware methods of aesthetic medicine,
- Any type of allergy treatment,
- Outpatient surgery (removal of warts, hemangioma, birthmarks, skin tumors of various origins)
- Treatment of chronic skin diseases (seborrhea, neurodermatitis, fungal skin diseases)
- Treatment of pigmented spots
and much more.

Center Derma Loft first in Germany began to use the technology Fraxel. Currently, there are four laser apparatus and equipment Fraxel.

Everything for your natural beauty.

Aesthetic correction of wrinkles
Wrinkle reduction using botox and fillers,
Comprehensive skin rejuvenation using boosters,
Treatment for wrinkles using Iovera-therapy.

Skin Rejuvenation
Thermage, rejuvenating laser Fraxel, gas-liquid peeling JetPeel,
Carboxytherapy / oksiterapiya therapy Dracula mikronidling,
Treatment of acne scars and rosacea.

Aesthetic Medicine for Men
Treatment of acne scars, skin improvement,
Underline the individual characteristics of a person.

Procedure Body contouring / Liposonix
Delicate fat reduction without surgery,
With the use of focused ultrasound,
Acoustic wave Thermage.

Depilation
Laser hair removal, long-term relief from hair.

Simulation of the lips and face,
Volumetric plastic face, liquid facelift.

Classical dermatology
Diagnosis and treatment of skin diseases,
Screening for skin cancer, allergology, phlebology,
Environmental Medicine.

Aesthetic Medicine for Men
In today's world of aesthetic medicine is no longer a purely women's work. Derma Loft Center offers cosmetic and aesthetic procedures tailored to the needs of men. The main task - to help man to look fresh and rested. Derma Loft experts will select for you the best solution from the list of various procedures, which include delicate treatment of wrinkles, improve the quality of the skin, acne scars treatment, skin tightening without surgery, treatment of excessive sweating, acne treatment, laser hair removal, and others.
Germany // Düsseldorf // Dermatology Allergology Cosmetology